The Circus Starring Britney Spears
(commonly referred to as the
Circus Tour
) was the sixth Concert Tour by American singer Britney Spears to promote her sixth studio album Circus. Rumors of a tour arose as early as October 2007, after Spears released her fifth studio album Blackout; however, it was cancelled due to unknown reasons. The tour was officially announced in December 2008, with dates for American and British venues revealed. The stage was composed of three rings and set in-the-round to resemble an actual circus. Fashion designers Dean and Dan Caten created the costumes. A giant cylinder screen was set above the stage to showcase videos and backdrops. Effects were provided by Solotech. Magician Ed Alonzo joined Spears during the second act. The setlist was composed generally from her albums In The Zone, Blackout, and Circus. Spears announced she would tour Australia for the first time in June 2009.
The tour was described as a "pop extravaganza". It was divided into five segments. The Circus featured a metamorphosis of Spears from as a ringmaster to a slave, while being surrounded by different performers. House of Fun (Anything Goes) displayed a series of upbeat numbers with different themes, including magic and military. It ended with a Bollywood-inspired performance and a ballad in which Spears performed while floating on a giant umbrella. Freakshow/Peepshow featured a video interlude set to heavy metal music, and continued with dark and sexual performances. Electro Circ displayed energetic dance routines, and the encore consisted of a video montage of Spears' music videos and a police-themed performance. Some changes were made to the show throughout the tour. Several songs were remixed; Spears also performed "Mannequin" in selected European shows and covers of Duffy and Alanis Morisette in some North American dates.
The Circus Starring Britney Spears generated positive to mixed reception from critics. While some praised its aesthetics and deemed it as an entertaining show, others criticized Spears' lack of involvement during some segments. The tour was a commercial success, with a total gross of $131.8 million. A great number of tickets were sold within a week of the tours announcement, which prompted supporters to add more dates. The tour also broke attendance records in many cities and all the North American shows were sold out. It became the fifth highest grossing tour of 2009, as well as the fifth highest grossing tour ever by a female artist. The show generated controversy on the Australian leg after a reporter said that a great number of fans had walked out during the performances. However, this was later denied by Spears' management and promoters.
Background
Edit
On September 9, 2007, Spears performed "Gimme More", the lead single from her fifth studio album Blackout (2007) at the MTV Video Music Awards. Her last live performance had been during The M+M's Tour in May of the same year. Her singing, her dancing and even her wardrobe were all commented on extensively, and it was considered hurtful for her career In October, 2007, it was reported that Spears was planning to go on tour to promote the album and was holding open dance auditions, but this was later denied by Jive Records. In February 2008, similar reports surfaced that Spears had already rehearsed in private for a month at Millennium Dance Complex in Los Angeles, California and would be leaving to Europe during the following weeks for a worldwide tour. However, it was finally cancelled due to unknown reasons. In September 2008, after New York City radio station Z100 premiered her single "Womanizer", Spears made a surprise appearance on the show and announced she would be going on a worldwide tour during 2009 to support her sixth studio album, Circus (2008). The concert promoter was AEG Live. Former director of the tour, Australian choreographer Wade Robson, said that the tour would visit the United States, the United Kingdom, and would also reach Australia.
After her live performances on Good Morning America December 2, 2008, Spears officially announced a first leg of twenty-five dates in the US and two dates in the UK, with the tour launching on March 3, 2009, in Mew Orleans. The Pussycat Dolls were selected in October 2008 as the opening act of the first North American leg. Spears' manager Larry Rudolph claimed that the show would "blow people's minds and promises to show Britney's fans something they will never forget." He later added, "she goes full–speed the whole show — about an hour and a half. It's pretty intense. This is a full–blown, full–out Britney Spears show. It is a pop extranvangaza. It is everything everybody expects from her — and more!" On April 28, 2009, eight European dates were added. The following day, four more dates were announced in Russia, Poland and Germany. On June 9, 2009, Spears announced that she would tour Australia for the first time in November. Six dates were initially announced. Spears stated, "I've wanted to tour Australia for quite some time and now it's finally happening. My Circus tour is the best show I have ever created and I can't wait to perform it for all of my Australian fans. See you guys soon!" The following day, it was announced on her official website that she would return to North America for a second leg, visiting twenty cities. The Circus Starring Britney Spears was also rumored to reach South America, however, Spears' manager Adam Leber denied this despite their efforts to do so.
Development
Edit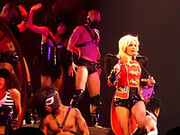 In October 2008, Spears hired Wade Robson, who had previously worked as director for her
Dream Within a Dream Tour
, to direct the tour; he announced that rehearsals would start in January. His wife, Amanda Robson, was also hired as co-creative director. Andre Fuentes was chosen as the lead choreographer. However, on December 23, 2008, the Robsons and Fuentes were replaced due to unknown reasons by Jamie King, who previously collaborated with Spears in her
Oops!...I Did It Again World Tour
. He did the casting of the dancers and acrobats, and worked with Spears on the setlist and the choreography. King described the show saying it was "sexy, fun, explosive, and full of surprises. While avoiding such traditional circus elements as live animals, we've created something innovative and exciting using contortionists, dancers, lighting, fire and other special effects". Simon Ellis was hired as the musical director. The production design was done by Road Rage, a formed alliance between Nick Whitehouse, Bryan Leitch, William Baker and Steve Dixon. Lightning design was done by Visual Light, conformed by Whitehouse and Leitch. The stage was designed by Road Rage and set in-the-round, with a big stage in the center painted to look like a target. There were also two satellite stages in the sides unified by small catwalks, to resemble an actual three-ring Circus. The stage was built by Tait Towers and included nine lifts, which had a cost of $10 million. It traveled in 3,000 rolling cases packed into 32 semis and a crew of 150 people was needed to set it up. There was a semi-transparent Element Labs Stealth cylinder screen above the stage, comprising 960 panels that Solotech built into custom frames. The backdrops were designed by Dirk Decooedt. There were three new film sequences shot exclusively for the tour: an opening video featuring Perez Hilton, a video of Spears set to Marilyn Manson's "Sweet Dreams Are Made of This" and a final montage. The three videos were created by Veneno. Props, including swings, couches, unicycles, stripper poles, a gold cage and giant picture frames, were designed by ShowFX Inc.; they also provided custom VIP couch seating that lined the perimeter of the stage. VYV provided the video control, which included two Photon Show media servers and two Photon Controllers. The servers took timecode for the show and wrapped the images around the Stealth screen. Emric Epstein of VYV explained, "The servers and software permits us to control a large number of video layers on the 360˚ LED screen, composite the layers in realtime, and transform the final output so that everything look seamless after going through the LED controllers. There is also an astounding 3D preview of the stage and video screens in the software so you can control or re-program the show without being inside the arena bowl".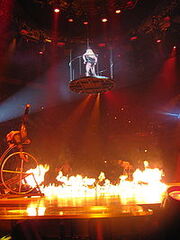 The sound was provided by Solotech. Front of house engineer Blake Suib explained that, "[Me] and Solotech were asked to come up with a design that blocked the least amount of seats but provided the quality and coverage that [Spears] expects and that we were looking for". The public adress (PA) was made of 64 Milos that split into four hangs of 16 per hang. Two at the 50 yard line pointed one way and directly behind, two at the 50 yard line pointed the opposite way. Also present were 32 Micas; 16 per hang, pointing to the sides. Each one of the four hangs had its own equalization (EQ) and level control, so in case one of the speakers were louder there would be a separate EQ to compensate for any change in the tone due to the distance. All the components and tools used in the public address were designed by Meyer Sound Labotories, including a software called Mapp, used to decide where to point the PA; the Simm, to analyze and time align the PA accurately; and the Galileo, used to EQ and balance all the sections of the PA. The speakers were self-powered with amplifiers also built by Meyer Sounds. There were 24 HP700 subwoofers positioned all over the arena floor, and the Simm and Galileo were used to time align. Spears used a Crown CM-311AE headset microphone wearing the mic's beltpack (usually hidden in color matching material) on her top or pants, she did not use in-ear monitor; instead 12 Meyer CQs were positioned, eight flown around the center ring and two on each of the smaller stages. Spears specifically asked Suib to make the show sound similar to adance club. Solotech provided the lighting package, including a mostly Vari-Lite rig, with 80 each VL3000s and VL3500s in various positions, and 60 VL500s built into the stage deck. Whitehouse also had 18 PRG Bad Boy luminaires, 16 of which sat in pods that hung in various positions lower than the rest of the rig, with two more at either end of the stage. Each of the eight pods housed two Bad Boys, two of the VL3500s, one Robert Juliat Ivanhoe followspot with scroller under DMX control, and a Molefay. Fifty Martin Professional Atomic Color strobes and four front of house Robert Juliat Aramis followspots rounded out the lighting package. The lightning team had to rehearse for a month to prepare. The tour was also the first to use the touring version of the PRG virtuoso V676 console to control the system, which was used from the beginning of the European leg until the end of the tour. Pyrotechnics and jets of smoke used in the show were created by Lorenzo Cornacchia of Pyrotek Special Effects and Tait Towers.
Spears explained that since she did not tour to promote Blackout, she was excited about having to include songs from that album into the setlist.[31] The finished setlist would include three songs from Circus, six songs from Blackout and five songs from In the Zone (2003); other parts of the setlist consist of a medley of "Breathe on Me" and "Touch of My Hand", both from In the Zone; and a remix of "Baby One More Time", the only song performed off the album of the same name (1998).[32] "Everytime" was the only song not included in the released setlist but was performed regularly on the show.[33] Magician Ed Alonzo joined Spears in one of the acts, and she played as his assistant. Alonzo stated, "We're going to be doing the classics of magic but a little high-tech. We'll be doing a little dissection, transposition, a vanish, an appearance — and if I do a trick, she doesn't just hold the props, she's actually getting inside the big boxes or I am slicing her up. ... Some of it's pretty scary, but she gets right in there with no reservations."[34] The costumes were designed by Dean and Dan Caten from DSquared2. They recreated classic circus outfits, like clowns, jugglers and trapeze artists in a more provocative way. They commented thaWe are enormous fans of Britney, and have been waiting for the perfect moment to collaborate with her. It's going to be wild. We wanted to create something much more provoking and indecent ... something animalistic and primal. We are confident that this tour partnership, an autobiographical tribute for one who has always been in the spotlight: scrutinized, watched, imitated, photographed, criticized and loved, will be an enormous success".[35] The costumes of the first segment were selected to show a metamorphosis. The cheetah headdress represented an animal. The jacket and whip represented both a ringmaster and a lion tamer. She took the headdress off at the end of the first song to reveal a Swarovski-crystal corset, fishnets, and boots and entered the cage to represent a slave.[36] The wardrobe for the song "Mannequin" included black jeans from True Religion and a yellow tank top with rhinestones designed by Spears herself.[37] Spears's outfits had a duplicate set in case of any problem and were numbered in sequence. The total number of costumes was approximately 350, kept in order by six full–time women. The wardrobe was also revealed to have $150,000 worth of Swaroski crystals.
The show continued with a video interlude featuring Marilyn Manson's cover of "Sweet Dreams", showing Spears in a classically decadent party-setting, in which everyone except her was wearing masks. A distorted voice welcomed spectators to the third act and Spears appeared onstage to perform "Freakshow" and "Get Naked (I Got a Plan)".[27] A video spoofing late-night chat lines featuring "Britney's Hotline" played, while clowns took a person from the audience and goofed around with them. Spears returned to perform "Breathe on Me", dancing on a giant picture frame, and "Touch of My Hand", in which she sported a blindfold while being lifted on the air sitting in the backs of two aerialists.[33] In the fourth section, there was a band interlude, and Spears appeared on stage to perform "Do Somethin'", with a gun that shot sparks in her hand.[27] This was followed by a remix of "I'm a Slave 4 U", in which she was raised on a platform as a ring of fire started below her. In the "Heartbeat" interlude, the dancers showcased their individual moves. Spears performed "Toxic" with moving jungle gyms and surrounded by green sci-fi lightning effects.[27] The act ended with Spears and her dancers performing a remix of "…Baby One More Time".[27] After a brief pause, the encore began with the "Break the Ice" video interlude, which included various clips of Spears's music videos. Spears returned for a performance of "Womanizer" dressed as a policewoman.[27] Spears and the dancers bowed to each side of the arena and left with "Circus" playing in the background.[27] Some changes were made to the setlist throughout the tour. During opening night in New Orleans, Spears was supposed to perform a cover of Duffy's "I'm Scared" after "Everytime". However, the lyric sheet went missing onstage and she started performing from below the stage, leaving two backup singers in the main stage. It was later dropped from the show.[39] "Mannequin" was added on the second Paris date and performed after "Get Naked (I Got a Plan)", with a brief lightshow introduction. The song was performed until July 26, 2009.[40] A cover of "You Oughta Know" by Alanis Morissette was performed on select shows during the second North American leg, starting on September 5, 2009.[41][42] In addition, "Piece of Me", "Radar", "Ooh Ooh Baby", "Do Somethin'", "I'm a Slave 4 U", "...Baby One More Time" and "Womanizer" were remixed at the beginning of the European leg.
Critical Responce
Edit
After Spears's premiere performance, the tour received generally positive reviews from several critics. Stacey Plaisance of the Associated Press commented that the tour was "another strong step in the right direction" and that Spears delivered a "a tightly choreographed, if perfunctory performance".[44] Ann Powers of the Los Angeles Times stated, "despite that first-night stumble and several numbers in which her dancing was no more than adequate, Spears can safely call this performance a success".[45] Jon Caramanica of The New York Times said that "[the show] was less a concert than a Las Vegas-style revue of intimidating complexity. Throughout, though she spoke little, Ms. Spears appeared radiant and unfettered, often smiling and never uncommitted".[46] Dixie Reid of The Sacramento Bee commented that the show was "a mesmerizingly big production with entertaining videos (including the infamous Spears-Madonna kiss), confetti, sparklers and even a stilt-walker. Who could ask for more? Everyone seemed to have a good time at the circus".[47] Neil McCormick of The Daily Telegraph said Spears is "the queen of production line pop and reclaims that diamanté crown with the most perfectly plastic pop show ever staged".
People writer Chuck Arnold wrote that Spears "never really hit her old stride [..] there was a lot more strutting than real choreographic feats from [her]".[39] Jeff Montgomery of MTV both praised and dismissed Spears's performance saying, "Yes, welcome to Britney's Circus, a big, huge, loud, funny, nonsensical three-ring affair... She looks great in her myriad of outfits, and she can still move with the best of them. [...] It's just, well, she's almost lost in the sheer hugeness of the production around her".[49] Jane Stevenson of Toronto Sun gave Spears's performance three out of five stars stating there was "so much was going on – there were also martial artists, bicyclists, etc. – there was no time to really assess Spears other than to note that she looked great. [..] She could lip-synch the words (one can assume) and strut around the stage well enough, but there was little in the way of genuine passion, joy, or excitement on her part".[50] The Hollywood Reporter's Craig Rosen claimed that "in the end, Britney and company delivered an entertaining spectacle, but one couldn't help but wish that she would strip it all down and show a little more of herself".[51] Sean Daly of St. Petersburg Times summed up all the reviews by stating, "When Britney, touring behind her new Circus album, plays the Times Forum, there will be as many people rooting for her success as her failure. [..] But in the end, we're all envious and thankful, jealous and applauding. We like them/us and hate them/us for the very same reasons".
Comercial reception
Edit
A week after The Circus Britney Spears was announced, 400,000 tickets were purchased for the North American shows, which prompted promoters to add six more dates in Los Angeles, Toronto, New Jersey, Chicago, Long Island and Anaheim.[16] Due to demand in the UK, six more shows were added to the initial two, selling more than 100,000 tickets in a week.[16] Spears performance at the American Airlines Arena broke the attendance record previously held by Celine Dion, with a crowd of 18,644 people.[53] The first North American leg, which was sold out, resulted in an average of 20,498 tickets per show and a gross of $61.6 million, becoming the highest grossing tour of the first semester of 2009 in the continent. In addition, the tour grossed $13 million from the London, Manchester and Dublin shows, with a total gross of $74.6 million, ranking as the third highest grossing tour worldwide.[54] The Copenhagen show at Parken gathered 40,000 people, Spears's largest audience since her 2002 concerts in Mexico City.[55] The second North American leg was also sold out, with a gross of $21.4 million and it was reported that the tour had grossed $94 million.[56] Her first three shows in Melbourne were also sold out.[57] The four shows at Acer Arena in Sydney sold 66,247 tickets, making Spears the highest selling act ever in the arena.[58] The tour was ranked at number seven on Billboard's Top 25 Tours of 2009, with a previously reported gross of $94 million. However, only 70 of the 97 shows were counted.[59] The Circus Starring Britney Spears also made Spears rank at number twenty one on the Top Touring Artists of the Decade, becoming the youngest artist in the list and also the fourth female artist, behind Madonna, Celine Dion and Cher.[60] The tour was also ranked as the fourth highest grossing tour of the year in North America, becoming the highest grossing tour of the year by a solo artist.[61] In February 2010, Pollstar released their Top 50 Worldwide Concert Tours of 2009. The tour ranked as the fifth highest-grossing tour, worldwide, of the year, with a gross of $131.8 million.[62] In May 2010, Hollyscoop ranked the tour at the fifth position in their 15 Most Profitable Female Tours Ever list.
Before the first of the Australian shows, Minister for Fair Trading for New South Wales Virginia Judge, said she was aware that Spears would lipsynch during the concerts and was considering to include disclaimers on promotional materials and tickets, indicating that portions of the show would be pre-recorded.[64] This measures would mean a change in the country's legislation similar to the debacle of the 2008 Summer Olympics opening ceremony. Judge further explained her position saying, "Let's be clear – live means live. If you are spending up to $200 I think you deserve better than a film clip". Tour director Steve Dixon defended Spears, claiming, "This is a pop spectacular, this is a showband show. You come for the experience. There is a lot to see about this show, there's nothing like this in the world. Britney Spears will entertain you, that's what people come for. We absolutely give them a show".[65] After opening night in Perth, The Advertiser writer Rebekah Devlin reported that a number of fans had walked out of the show. They were apparently "disappointed" and "outraged" regarding Spears's lip syncing and subdued dancing.[66] Australian tour promoter Paul Dainty talked about the situation saying, "It's the biggest lie I've ever heard. I'm so angry. We can take heat if there's something wrong and people can review shows badly – that's something you have to live with – but to say people stormed out of the show was an absolute fabrication. Britney is aware of all this and she's extremely upset by it. She's a human being. I'm embarrassed, with such a big international entourage here with Britney, to be part of the Australian media when I see that kind of totally inaccurate reporting. It's been all over the internet for nine months, the inference is that we tried to hide this. It's been the opposite. This show is about an incredible spectacle, which it is".[67] Spears's manager Adam Leber responded in his Twitter account, saying, "It's unfortunate that one journalist in Perth didn't enjoy the show last night. Fortunately the other 18,272 fans in attendance did". Spears's official website also posted a list of positive reviews from a number of fans. Burswood Dome also issued a statament reading, "Last night's concert (Friday) saw record crowds turn out for her first performance in Perth and from Burswood's perspective the event was a huge success. Early media reports that hundreds of fans left the concert early cannot be substantiated and Burswood has received no complaints about the concert".[68] Finally, Spears addressed the situation according to BBC Online. She was quoted as saying, "I hear there is a lot of controversy in the media about my show. Some reporters have said they love it and some don't. I came to Australia for my fans".[69] The negative media attention continued after her show in Melbourne when it was alleged that fans had placed tickets for the remaining Australian shows on sale on the online shopping website eBay, for as little as 99 cents. However, Dainty said that the holders of the tickets were not Spears's fans, stating "They're just profiteers. They buy tickets for $200 and think they that when the concerts sell-out they will offload them for $500".
Opening Act
Edit
"Welcome to the Circus" (Video Introduction)
"Circus"
"Thunderstorm" (Performance Interlude)
"Radar"
"Martial Arts Segue" (Performance Interlude) (features LAZRtag Remix of "Gimme More")
"Ooh Ooh Baby" / "Hot as Ice"
"Boys" (The Co-Ed Remix)
"Me Against the Music" (Bollywood Remix)
"Everybody's Looking for Something" (Video Interlude) (features "Sweet Dreams (Are Made of This)")
"Freakshow"
"Get Naked (I Got a Plan)"
"Britney's Hotline" (Performance Interlude) (contains elements of "Breathe on Me", with excerpts of "Boys", "I'm a Slave 4 U" and "Gimme More")
"Breathe on Me" / "Touch of My Hand"
"Band Jam Segue" (Band Interlude) (contains elements of "Circus")
"I'm a Slave 4 U" (contains intro from "Light Your Ass On Fire")
"Heartbeat" (Dance Interlude) (featuring "Lollipop", "American Boy", "Don't Stop the Music" and "Closer")
"Toxic"
"Break the Ice" (Video Interlude) (contains elements from "Run the Show", with excerpts from "Gimme More" and "I'm a Slave 4 U")
"Circus" (Reprise: The Bow)
On March 3, "I'm Scared" (Duffy cover) was performed after "Everytime".
From July 5 to July 26, "Mannequin" was performed after "Get Naked (I Got a Plan)".
From September 5 to September 18, "You Oughta Know" (Alanis Morisette cover) was performed after "If U Seek Amy".
"Touch of My Hand" was cut at some shows on the second North American leg and wasn't performed on the European leg and the Australian leg.
Tour dates
Edit
Date
City
Country
Venue
North America[16]
March 3, 2009
New Orleans
United States
New Orleans Arena
March 5, 2009
Atlanta
Philips Arena
March 7, 2009
Miami
American Airlines Arena
March 8, 2009[A]
Tampa
St. Pete Times Forum
March 11, 2009
Uniondale
Nassau Veterans Memorial Coliseum
March 13, 2009
Newark
Prudential Center
March 14, 2009
March 16, 2009
Boston
TD Banknorth Garden
March 18, 2009
Toronto
Canada
Air Canada Centre
March 19, 2009
March 20, 2009
Montreal
Bell Centre
March 23, 2009[B]
Uniondale
United States
Nassau Veterans Memorial Coliseum
March 24, 2009
Washington D.C.
Verizon Center
March 27, 2009
Pittsburgh
Mellon Arena
March 30, 2009
Houston
Toyota Center
March 31, 2009
Dallas
American Airlines Center
April 2, 2009
Kansas City
Sprint Center
April 3, 2009
Minneapolis
Target Center
April 6, 2009
Edmonton
Canada
Rexall Place
April 8, 2009[C]
Vancouver
GM Place
April 9, 2009
Tacoma
United States
Tacoma Dome
April 11, 2009
Sacramento
ARCO Arena
April 12, 2009
San Jose
HP Pavilion at San Jose
April 14, 2009
Salt Lake City
EnergySolutions Arena
April 16, 2009
Los Angeles
Staples Center
April 17, 2009
April 19, 2009
Anaheim
Honda Center
April 20, 2009
April 22, 2009
Oakland
Oracle Arena
April 24, 2009
Phoenix
Jobing.com Arena
April 25, 2009
Las Vegas
MGM Grand Garden Arena
April 28, 2009
Rosemont
Allstate Arena
April 29, 2009
April 30, 2009
Columbus
Jerome Schottenstein Center
May 2, 2009
Uncasville
Mohegan Sun Arena
May 3, 2009
May 5, 2009
Montreal
Canada
Bell Centre
Europe[80]
June 3, 2009
London
England
The O2 Arena
June 4, 2009
June 6, 2009
June 7, 2009
June 10, 2009
June 11, 2009
June 13, 2009
June 14, 2009
June 17, 2009
Manchester
Manchester Evening News Arena
June 19, 2009
Dublin
Ireland
The O2
June 20, 2009
July 4, 2009
Paris
France
Palais Omnisports de Paris-Bercy
July 5, 2009
July 6, 2009
July 9, 2009
Antwerp
Belgium
Sportpaleis
July 11, 2009
Copenhagen
Denmark
Parken Stadium
July 13, 2009
Stockholm
Sweden
Ericsson Globe
July 14, 2009
July 16, 2009
Helsinki
Finland
Hartwall Arena
July 19, 2009
St. Petersburg
Russia
Ice Palace
July 21, 2009
Moscow
Olympisky Arena
July 26, 2009
Berlin
Germany
O2 World
North America[21]
August 20, 2009
Hamilton
Canada
Copps Coliseum
August 21, 2009
Ottawa
Scotiabank Place
August 24, 2009
New York City
United States
Madison Square Garden
August 25, 2009
August 26, 2009
August 29, 2009
Boston
TD Banknorth Garden
August 30, 2009
Philadelphia
Wachovia Center
September 1, 2009
Orlando
Amway Arena
September 2, 2009
Miami
American Airlines Arena
September 4, 2009
Atlanta
Philips Arena
September 5, 2009
Greensboro
Greensboro Coliseum Complex
September 8, 2009
Auburn Hills
The Palace of Auburn Hills
September 9, 2009
Rosemont
Allstate Arena
September 11, 2009
Des Moines
Wells Fargo Arena
September 12, 2009
Grand Forks
Alerus Center
September 15, 2009
Tulsa
BOK Center
September 16, 2009
Houston
Toyota Center
September 18, 2009
Dallas
American Airlines Center
September 19, 2009
Bossier City
CenturyTel Center
September 21, 2009
El Paso
Don Haskins Center
September 23, 2009
Los Angeles
Staples Center
September 24, 2009
San Diego
San Diego Sports Arena
September 26, 2009
Las Vegas
Mandalay Bay Events Center
September 27, 2009[D]
Australia[81]
November 6, 2009
Perth
Australia
Burswood Dome
November 7, 2009
November 11, 2009
Melbourne
Rod Laver Arena
November 12, 2009
November 13, 2009
November 16, 2009
Sydney
Acer Arena
November 17, 2009
November 19, 2009
November 20, 2009
November 22, 2009
Brisbane
Brisbane Entertainment Centre
November 24, 2009
November 25, 2009
November 27, 2009
Melbourne
Rod Laver Arena
November 29, 2009
Adelaide
Adelaide Entertainment Centre
Additional notes
Edit
During the "Break the Ice" video interlude, the only music videos that are not shown in the collage are "From The Bottom Of My Broken Heart", "Overprotected" (both international and Darkchild remix video versions), "Everytime", "Do Somethin'", "Someday (I Will Understand)", and "Break the Ice".[43] "If U Seek Amy" and "Radar" are also not shown, but this was due to the fact that those music videos weren't film yet when the tour began.
After finishing her performance of "I'm a Slave 4 U" at the March 8th Tampa, Florida show, Britney didn't realize her microphone was still on, and shouted: "My pussy is hanging out!", which was clearly heard throughout the audience. The incident has received notable attention from many blogs, and has received thousands of views on YouTube.[44]
The Pussycat Dolls didn't perform at the March 23rd show in Uniondale, New York, due to Nicole Scherzinger's illness.[45]
Two of the crew members on the tour, Rockey Lee Dickey Jr. and Alex Montes, were arrested for aggravated assault on March 26, 2009.[46]
The March 26 show in Uncasville, CT was postponed to May 3, 2009, due to there not being enough time to transfer the staging equipment from the previous city.[30]
At the April 2, 2009 show in Connecticut, while performing the encore of "Womanizer", a drunk fan jumped on stage and startled Spears when he came face to face with her. Spears, frightened, called for help from her back up dancers who took the man offstage. Spears momentarily froze, slightly embarrassed, but continued back in motion with the performance after the song's breakdown.
As the tour has progressed, dance breaks have been added to "...Baby One More Time", "Toxic", and "Womanizer".
Initially during "I'm A Slave 4 U", Spears was lifted by a rising surface while fire appeared from the stage, thus creating a "Ring of Fire". However some arenas haven't allowed this part of the show due to fire hazards. Instead Spears dances on the floor. In the European leg of the tour the platform was altered to more safely contain Britney as she was lifted.[47]
During her performance in Vancouver, Spears halted the concert after "Radar" claiming that the arena was too smokey due to spectators smoking marijuana and cigarettes. An announcement was made for all spectators to extinguish any smoking-related items. Afterward, Spears continued the show.[48]
During the May 2nd show in Uncasville, a fan managed to climb onto the stage during "Womanizer" and run up to Britney, startling her. He was quickly removed by several dancers. At first Britney stopped singing and dancing, but after a few seconds resumed.
For the European leg of the tour, "Piece of Me", "Radar", "Ooh Ooh Baby", "Do Somethin'", "I'm a Slave 4 U", "...Baby One More Time", and "Womanizer" were remixed.
For the European tour, Britney sits on a smaller blue umbrella for "Everytime" instead of the large red one, and the platform for the ring of fire stunt during "I'm a Slave 4 U" was replaced with a small rotating bucket with Britney's new "B" logo.
The July 24 show in Warsaw, Poland was cancelled by the Polish promoter due to an unresolved contractual dispute. Britney issued an apology to her Polish fans on her website stating that she regretted not being able to visit Poland during the tour and that she hoped to visit Warsaw in the near future.[87]
At the September 27, 2009 performance in Las Vegas, the man pulled from the audience for "Breathe on Me" was Lance Bass.[85]
Costume alterations
Edit
At several points during the tour, alterations have been amde to the wardrobe that Spears wore. According to Spears herself, this was done to keep the show fresh and change it up so it didn't get boring. Some of the changes include:
First North American leg
Edit
After opening night, the sparkled bra top she wore for "Toxic" and "...Baby One More Time" was replaced by a striped cut off t-shirt.
The top of the Bollywood outfit that Spears wore for "Me Against the Music" and "Everytime" was altered to be less revealing and the green pants were changed to light blue.
At Spears' second show in New Jersey, the gold metal corset she wore for "Do Somethin'" and "I'm a Slave 4 U" was repalced by the original black leotard used during tour rehearsals as a result of the "wardrobe malfunction" that occured at the Tampa show. It was later modified at the Sacramento show to include cyrstals on the front.
At the Dallas and Kansas City shows, Spears wore a short blonde wig during "Do Somethin'", "I'm a Slave 4 U", "Toxic" and "...Baby One More Time".
Also at the Sacramento show, the outfit for "Freakshow" and "Get Naked (I Got a Plan)" was altered. The mid-section was removed exposing Spears' mid-section and a purple bow was added to the back and she now wears a purple tie.
At the Oakland show Spears wore the "B" police hat during "Toxic" and "...Baby One More Time" in addition to the normal performance of "Womanizer".
At the Anaheim show, Spears added a blet over her mid-section while performing "Radar".
At the Columbus show, the matching tight shirt/pant combo she wore for "Breathe One Me" and "Touch of My Hand" was replaced by black hot pants and fishnet stockings.
To celebrate the final show of the North American leg, the male dancers pranked Spears by coming on stage wearing only pink boxer-briefs that said 'True Britney' on the elastic waist bands during "Boys" and "If U Seek Amy".
At select shows, Spears wore a black wig during most of the show's third act.
European leg
Edit
The lion styled headdress for "Circus" is replaced with a cowboy hat and she wears yellow framed sunglasses. The glasses also replaced the normal sunglasses she wore for "Womanizer". At the June 14th show, she reverted back to the lion styled headdress and the sunglasses were removed completely.
The silver shoes worn for "Boys" were replaced by black ones.
Smaller black white-bejeweled shorts replaced the original larger black-sequiend shorts for "Circus", "Piece of Me" and "radar". She reverted back to the original shorts on the second show in London.
Fingerless gloves were added to "Circus", "Piece of Me" and "Radar and the belt is removed from the "Radar" outfit.
The pink fur vest worn for "If U Seek Amy" was changed to white on June 4 and was changed to blue on July 4.
The costume for "Freakshow" and "Get Naked (I Got a Plan)" was slightly altered. Purple tassels were added to the bustier and the purple bow on the back of her bottoms is tighter as opposed to the original looser one.
The body suit for "Breathe On Me" and "Touch of My Hand" was replaced by a one-piece suit, fishnet stockings and purple shoes.
The crystals on the outfit Spears wears for "Do Somethin'" and "I'm a Slave 4 U" are removed and a vertical rectangle piece is removed on Spears' mid-section.
The shorts for "...Baby One More Time" were slightly modified.
A new outfit for "Freakshow" and "Get Naked (I Got a Plan)" was introduced. Spears begins the number ina black outfit that covers her upper body and arms. During the performances she removes it to expose small black shorts and a white-sparkled bra top.
At the July 6 show in Paris, the white and black striped top for "Toxic" and "...Baby One More Time" was repalced by a pink, purple and white striped bra top.
At the July 6 show in Paris and the July 11 show in Copenhagen, Spears removed the corset which she wears up until "Radar". She also removed the ringleader jacket at the start of "Circus" instead of wearing it up until the end. She also did not wear the lion-styled headdress.
At the July 9 show in Antwerp, a new dress for "Ooh Ooh Baby" was introduced. The shoulders are now light purple, with two big light purple stripes going down the side and the tassels at the end are also pink and purple.
At the July 11 show in Copenhagen, Spears wore a red bra top during "Get Naked (I Got a Plan)" instead of the gold bra.
At the July 13 show in Stockholm, Spears rolled up her yellow tank top that she wore for "Mannequin" in order to expose her mid-section. The female dancers also rolled up their tank tops to reveal their mid-sections and the male dancers' wifebeaters were removed completely.
At the July 14 show in Stockholm, the yellow tank top for "Mannequin" was replaced with a cut off top.
Second North American leg
Edit
For "Circus" in Hamilton and Ottawa, she wore a top hat and fedora respectively.
Starting in New York City, Spears descended from the ceiling wearing a brown, hooded trenchcoat. When she reached the stage, she removed the trenchcoat to reveal a golden corset (the same one she wore for "Do Somethin'" and "I'm a Slave 4 U" on the first North American leg) which now she wears for "Circus", "Piece of Me" and "Radar".
At the Detroit show, the golden corset for "Circus", "Piece of Me" and "Radar" was replaced by a flesh-colored body suit with crystals.
The outfit for "Hot as Ice" and "If U Seek Amy" was replaced by a black and white bra-style top and black hot pants with a black and white corset. Spears also reverted back to the pink fur vest for "If U Seek Amy".
Instead of remaining in her Bollywood outfit, Spears changed into a white dress for "Everytime".
For "Freakshow", Spears continues to wear the cream-colored top and black hot pants, but now covers her midriff with a black corset with black ruffles down the back that is removed for "Get Naked (I Got a Plan)". The boots originally worn for this section of the show were replaced by silver high heels.
For the Grand Forks show, Spears wore the outfit she wore during the European leg for "Toxic" and "...Baby One More Time", paired with hot pink legwarmers. The black top and red pants then returned for the next show.
At the Orlando show, Spears replaced the silver leotard worn for "Do Somethin'" and "I'm a Slave 4 U" with a black one that was worn for select shows on the first North American leg. The black unitard was also used for "Womanizer", but accessorized with a tie, boots and cop hat. Soon after, the boots were replaced with sparkly high-heeled shoes.
Spears donned a pair of white glasses during select songs.
At the Bossier City show, the white dress for "Everytime" was replaced with a black one.
At the Los Angeles show, black sunglasses were added to "Freakshow".
At the San Diego show, the black sleeveless crop top for "Toxic" and "...Baby One More Time" was replaced by a black bra top.
Australian leg
Edit
The ringleader jacket returned for "Circus" and was worn for the duration of the performance.
The original outfits for "Piece of Me", "Hot as Ice" and "Womanizer" were used again.
The mid-belt on "Radar" was removed.
For the first show in Perth, the male dancers wore blue boxer-briefs for "Boys", instead of the original pink. The pink boxer-briefs then returned the following night.
The outfit worn during the European leg for "Toxic" and "...Baby One More Time" was used again at the Perth shows.
At the first show in Melbourne, the black and white top returned, now paired with the corset for "Piece of Me" outfit. At the second show in Melbourne, the top was replaced by a black bra top.
Also at the first Melbourne show, Spears resumed wearing the sparkly gray leotard for "Do Somethin'" and "I'm a Slave 4 U" that had been replaced at the Orlando show.
Also at the second Melbourne show, Spears wore the blue hat from "Boys" during the "If U Seek Amy" performance.
At the second show in Sydney, Spears wore a top hat for "Circus", as well as a fake mustache for the Movember foundation.
At the first Brisbane show, Spears wore a pink hat for "Womanizer" and a new silver dress for "Ooh Ooh Baby".
At the second Brisbane show, the ringleader jacket was not used. Instead, the entire first act was performed in the "Piece of Me" outfit.
At the third Brisbane show, Spears wore a bob cut show for the entire show and a new pink dress was worn for "Everytime".
At the Adelaide show, a red fur vest was worn for "If U Seek Amy".
Personnel
Edit
Tour director: Steve Dixon
Production designers: Steve Dixon, Nick Whitehouse, William Baker and Bryan Leitch
Lighting designer: Nick Whitehouse
Production executive: Mo Morrison
Tour manager: Dave Brown
Production manager: Jason Danter
Creative director: Jamie King
Musical director: Simon Ellis
Choreographers: JaQuel Knight, Tiana Brown, Tony Testa, Dreya Weber, Rujuta Vaidya, Britney Spears and Chase Benz
Dancers: Jose Omar, Willie Gomez, Jonathan "J-Boogie" Rabon, Chase Benz, Jia Huang, Laura Edwards, George Jones JR, Luke Broadlick, Tiana Brown, Justin de Vera, Valerie "Rais" Moise, Marc "Marvelous" Inniss, Ava "Ava Flave" Berstine, Tye Myers, JP San Pedro and Devon Jameson
Managers: Larry Rudolph and Adam Leber
Costume designers: Dsquared2, The Bonds, David Alexender, Catriona Mackechine and Britney Spears
Stylist: William Baker
Tour promoter: AEG Live
Tour sponsor: Virgin Mobile
Photo gallery
Edit
Community content is available under
CC-BY-SA
unless otherwise noted.