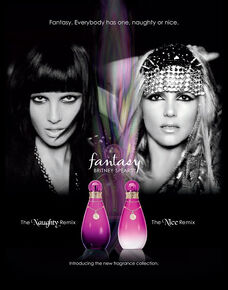 Fantasy: The Nice Remix is a fragrance created by Britney Spears and Elizabeth Arden. It was released in February of 2014.
The bottle doesnn't follows the style of all previous Fantasy products. It is pink with a white gradient and has a gold chain with a pendant "N."
The box that contains the perfume is different of the original Fantasy.
Dreamy and uplifting, this sparkling, fruity scent highlights the flirty kiwi from Britney's original fantasy fragrance while keying into the uplifting, core notes of yummy cupcake and jasmine petals.
The Nice Remix finishes with a serene creamy musk which creates a romantic soft blend that leaves behind a whimsical trail.
The sizes of Fantasy: The Nice Remix are available for purchase in 30ml, 50ml and 100ml bottles, Eau de Parfum.