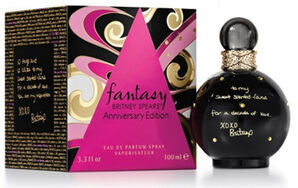 Fantasy: Anniversary Edition is a fragrance created by Britney Spears and Elizabeth Arden.
The perfume was released in October of 2013 to celebrate the ten-year anniversary of the beginning of Britney Spears' fragrance line.
The fragrance's tagline is "10 Hugs & 10 Kisses, xoxo - Britney."
The bottle follows the style of all previous Fantasy products (with the exception of Fantasy Twist).
It is all black with gold crystals surrounding the bottle. Each bottle comes with one of three messages:
"10 hugs and 10 kisses, xoxo Britney," "To my sweet scented fans for the decade of love, xoxo Britney" and "You are my inspiration, xoxo Britney."
Britney hand-signed 100 bottles that were randomly distributed across the world available for purchase at the normal price.
The box that contains the perfume also showcases select fans names Britney chose herself through her Facebook and Twitter account.
The perfume is made of lychee, kiwi and quince at the top; jasmine, orchid, white chocolate and cupcake accord in the hear & musk, orris root and woody notes in the base.
The sizes of Fantasy: Anniversary Edition are available for purchase in 30ml, 50ml and 100ml bottles.